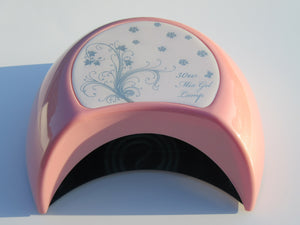 Product Description: 
🌸 Easy to use: Select timer option of your choice. Gently place hand into light. Nail light will automatically start once you put your hand in making it easier to use. Wait for timer to end and voila... you have a beautiful set of nails ✨
🌸 𝗣𝗿𝗼𝗱𝘂𝗰𝘁 𝗳𝗲𝗮𝘁𝘂𝗿𝗲𝘀: 30 wattage bulbs and self timers 15, 30, 60 and 90 seconds.
🌸 Light weight ✨
🌸 Gorgeous light pink color✨
🌸 Stunning LED light✨ 
🌸 Nail light last up to 5,500 hours✨
🌸 Enjoy creating professional nails in the comfort of your own home.✨ 
🌸 Can be used for gel nails and toe nails. Works with all uv and led gel nail polishes✨
🌸 Also good use for acryl and poly gel✨ 
📦 WE SHIP WORLD 🌎 WIDE🎉